2018 is quickly coming to an end with 2019 fast on its heels, whether we're ready or not. Since we can't stop time, we might as well get on board and get organized while we're at it and that means a new calendar to start your year off fresh. If you're ready to begin, take a look at this group of 2019 modern calendars as there's bound to be one that's a fit.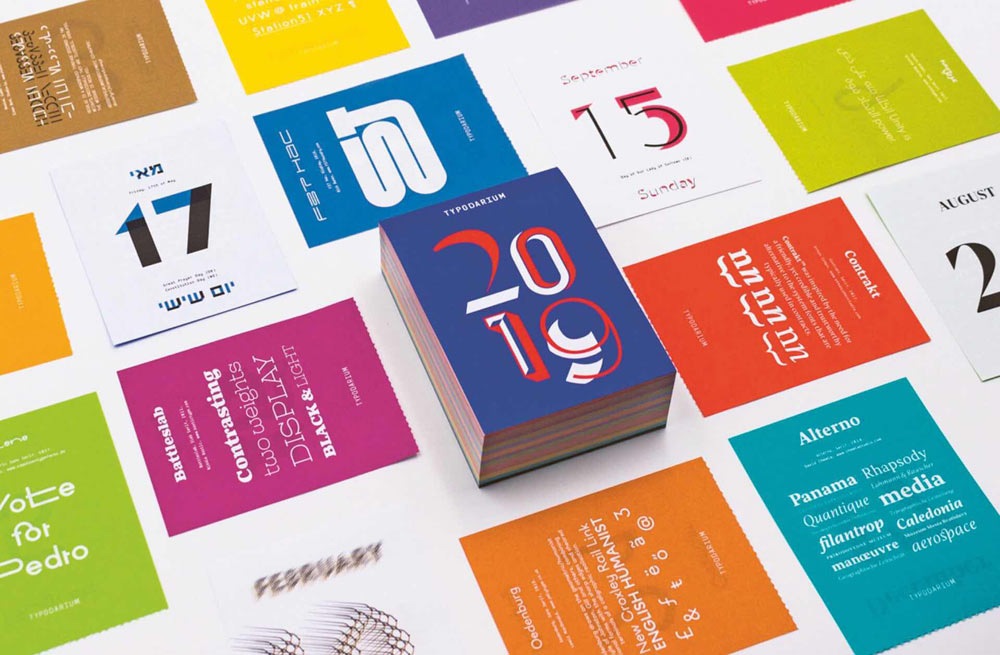 Always a favorite, the Typodarium daily desktop calendar delivers 366 fonts designed by 148 type designers that are from over 30 countries around the world. Truly a global effort.
Poketo's annual wall calendar is beautiful with each month featuring dramatic works full of shapes and plays on light from Buenos Aires artist Eloise Iturbe
Formerly Paper Pusher, Relative Goods is the new home to the ever-popular Isometric Calendar featuring 12 "visual meditations" comprising optical illusions, playful geometry, and impossible isometrics.
This limited edition playful planner is litho printed on heavy paper making it a durable enough to last all year. Its fun pattern features geometric shapes in soft, pastel colors that are perfect for staying on task through 2019.
This desktop calendar offers up daily phrases that run the gamut, from aspirational to humorous, to keep you inspired and ready to start the day.
The brand that delivers some of our favorite artist-designed throws has launched a calendar that falls right in line with their bold, colorful aesthetic.
Perfect for the minimalist design lover, this clean and simple wall calendar is bookcloth bound with brass foil accents and charcoal grey type. There are holes hidden in the back for hanging.
Crispin Finn has brought back his year planner – his 11th – with a new look in his signature blue and red ink on 100% recycled, biodegradable white paper.
A pocket-sized calendar you can prop up on your desk that's available in four colors – baby blue, light pink, mint green, or grey. The cover design features 19 undulating, intersecting lines that have been hand-printed on a vintage letterpress, just like the perforated pages for each month.
Another tear-off calendar that delivers daily delight with an instant photo and the story behind it on the backside. You'll also learn a bit about the photographer who took the image as well.
Probably the most iconic calendar of all time, the Stendig is a massive, black and white monthly calendar that delivers a bold yet minimalist feel.
If you're looking for something more three-dimensional, the DodeCal wooden polyhedra is a good bet. It's made from responsibly sourced English Oak giving it a nice weight to hold or rest on your desktop.
This reversible calendar lets you pick which color you'd prefer to hang for the year – the yellow side that runs horizontally or the black one that's vertical. It also comes with 100 Post-its® notes that let you mark special days with a message.
A delightfully fun calendar that lets you pop a bubble every day of the year. The hard part is not blazing through all the bubbles in a day.
Marking its 19th year in print, the 365 Typography Calendar features 12 typefaces that were inspired by posters designed in the 20th and 21st centuries.
Mid-century inspired designs don the pages of this skinny, limited edition calendar that's now in its 6th year of printing.
A wall calendar that doubles as a piece of art with blocks of color and a geometric design. It comes in two colorways – red and green – and in two orientations – vertical or horizontal – making it easy to fit into just about any space.
Each month is printed on its own 8″ x 12″ sheet with a new minimalist design featuring modern shapes and colors. A metal clip is included for easy hanging.
For the last option, we're going digital with the Minimal Calendar. It's a simple, clean, and easy to navigate calendar app that gets back to basics without all the clutter.
For quality calendar printing – speak to the calendar printing experts, Asset Print.
Article source: https://bestflyerprinting.tumblr.com/post/184689013639/20-modern-calendars-for-20192018-is-quickly-coming